Fidalgo Youth Symphony needed a poster that would showcase their upcoming concert full of delightful young musicians. And time was running out. Soon the conductor got me on the case, and I whipped up a design. Since then I've created dozens of posters and concert programs for this symphony.
For one concert in October 2017, the group was to play selections from Beethoven's Fifth Symphony. In order to portray the deep meaning and history behind the composer and his famous piece, I placed a painting of the thoughtful Beethoven against an actual music score. The poster also included a composing hand, hints of autumn, and elegant flourishing touches. The result was greatly admired.
My designs have continued to put the limelight on this group of young people, that their music may be heard.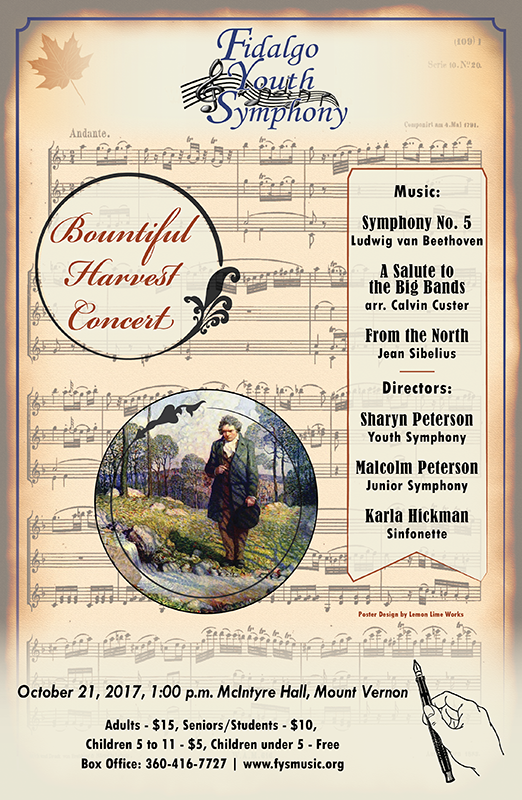 I have gotten to know Karissa and her graphic  design work well. For all our concerts she produces posters and programs. They are to the point, creative and innovative. She is also easy to work with, willing to take other ideas and make them her own. I highly recommend Karissa's work, she is a skilled designer and  her work is always done on time, which is greatly appreciated and stress relieving.

– Barbara Paul-Mayer, 2016-2017 President, Fidalgo Youth Symphony
Lemon Lime Works produces quality work in a timely fashion, with a professional attitude toward clients. Our rural area is lucky to have a quality designer in our neighborhood. Not only that, but entrepreneurs help drive the local economy – and we are the richer for it.

– Ellie Slabodnik, 2017-2018 President, Fidalgo Youth Symphony